How can we consume consciously?

---
A pessimist can easily say that all the fuss about metal straws, eco bags, and plastic ban aren't really amounting to anything when it comes to helping the planet. Still, small switches like this are actually admirable.
We believe that every small step toward something good is still progress, and we'd like to be optimists and think of the changes we can make when all of us contribute in our own little ways.
And yes, we know that the biggest changes can happen when governments and corporations join the movement. But while that hasn't really happened yet, we'd like to shine the spotlight on brands who are actually playing their part in this conversation.  
---
We talked to some of our favorite brands who are taking part in sustainability.
---
How did you get started with incorporating eco-friendly practices in your brand?
From the very beginning, Rags2Riches was founded because of a social mission. From the very beginning, eco-ethical practices were the only practices we were interested to pursue. But while we have been doing this since the beginning and as consistently as possible, we still learned a lot along the way and continue to improve. We also make it a point to be inclusive when it comes to these practices because it is much better for the world if we all do small steps consistently together.
How can customers help further your cause?
As a business that supports livelihood, one of the most concrete ways to really contribute to our cause is to buy our products. But as an advocacy, we also don't want people to just buy even if they don't need to. We hope to advocate buying with intention, which means that when you buy something, you consider the impact of your purchase as well as your own commitment to making this item a meaningful and joyful part of your life.
How did you get started with incorporating eco-friendly practices in your brand?
I can't remember when I started! I've always made things. Like for as long as I can remember. I started making items for selling when we put our stall up in Legazpi Market almost 10 years ago. Things were different then, so we got a lot of inspiration from other vendors who were also into making things.
How can customers help further your cause?
People can help biocultural diversity by looking beyond trends and consuming local food products. Like, saluyot levels. And also getting off their phones and walking outside in their neighborhoods. Meeting real people. Solving real problems, no matter how small.
---
How did you get started with incorporating eco-friendly practices in your brand?
All Messy Bessy products are made locally. All products are made with safe, natural and biodegradable ingredients that are not only good for your health, but the planet too! Last year, we launched our refill station when we opened our store at Power Plant Mall, Rockwell.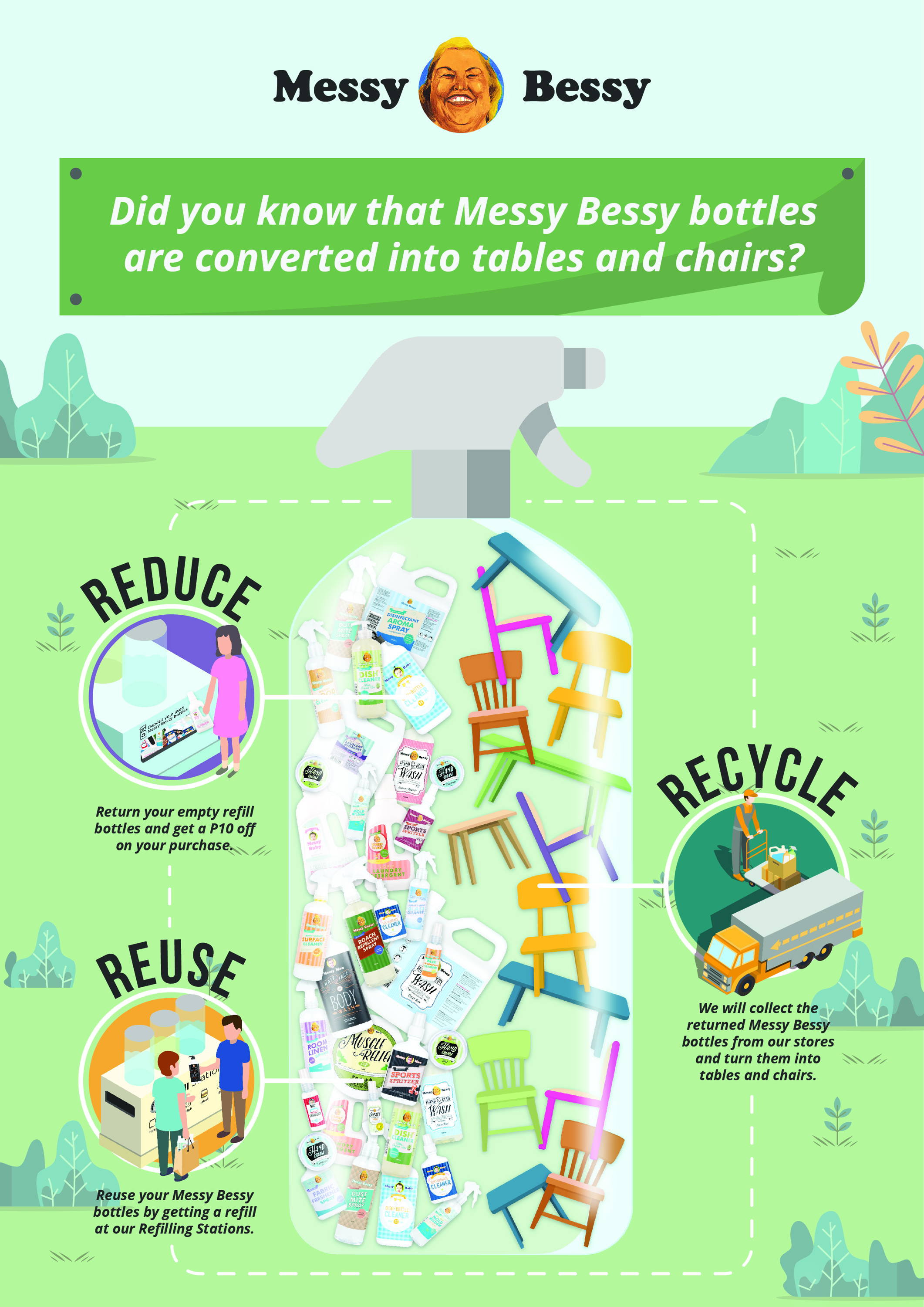 Currently, we have five stores offering refills - Power Plant Mall, SM Fairview, Uptown Mall BGC, Venice Grand Call Mall and Estancia Capitol Commons (starting today). We're only offering the refills for 3 products (for now) - Disinfectant Aroma Spray (our best selling product), Dish Cleaner Aloe Green Tea and Room & Linen Spray Lavender. Refill costs 0.25 / ml.
Customers can also return their empty refill bottles (1L, 2L / 4L containers) in our kiosks and get a P10 off on their purchase. We also partnered this year with Envirotech Philippines. We give them the returned containers and they convert them into table and chairs.
How can customers help further your cause?
By supporting our products :) Aside from its effectivity, it is a responsible brand that cleans our homes, environment and the lives of the at-risk youth through Helping Ourselves through Sustainable Enterprises (HOUSE) Foundation. SInce the company started, all profits have been used to support HOUSE Foundation's rehabilitation and education program for the company's beneficiaries.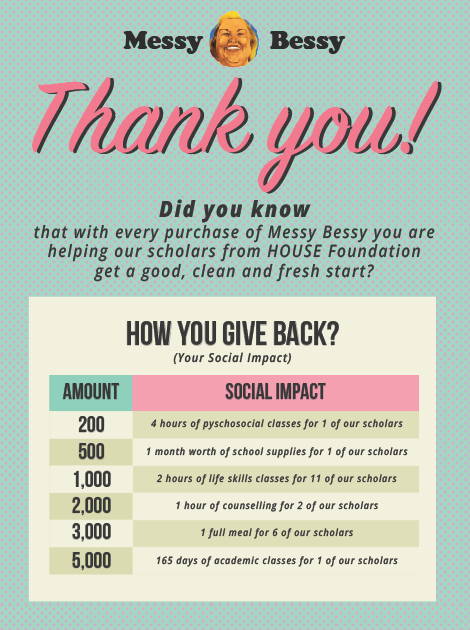 ---
How can you shop more mindfully?
THESE ARE SOME OF OUR FAVORITE SUSTAINABLE PRODUCTS TO HELP GET YOUR STARTED.
---
Can't work in a dirty desk? Us too! We love this cleaner from Messy Bessy, which uses only all-natural ingredients to get the job done! The best part? You can return your bottles to Messy Bessy and they'll give you a discount on your next purchase!
---
We were already big fans of the signature R2R weave that uses and elevates overstock fabrics, but the convertible backpack-to-sling-bag feature of the Cole Mini got us even more in love. Plus points that this backpack can fit all our essentials!
---
An RF team fave! It keeps the team's hands clean and fragrant without all the toxic chemicals. We love that it comes in a recycled bottle too!
---
Our very own Upcycled collection repurposes excess leather from last year's production. Whether you're looking slip ons, strappy sandals, or a brand new wallet, there's an upcycled product for you.